Previous talks
27 March, 2019
"What can quantum mechanics teach us about cognition?"
Royal Grammar School, Guildford, UK.

20 March, 2019
"The beginner's guide to quantum cognition"
Open University Psychological Society, Brighton, UK.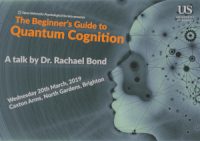 12 December, 2015
"A quantum framework for likelihood ratios"
Annual Scientific Meeting of the Mathematical, Statistical, and Computing Psychology Section of the British Psychological Society, London, UK.